This is a mini challenge for the Biannual Blogathon Bash, a twice annual blogging marathon; The summer blogathon runs from June 22 to June 25. Anyone is welcome to read and use the information. However, if you are signed up for the blogathon, completing this mini challenge improves your chances of winning a prize. If you are participating in the blogathon, please do not complete this challenge until the blogathon has started.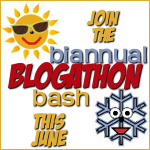 One of my favorite things to in school was to write book reports. I loved being able to pick out a book and tell my class about it. Writing a book review is like a grown-up version of the book report, except you are giving it to a much larger audience. A book report contains three basic things: title, author, and plot. The same elements should be included in a book review, but in an expanded format. Here is the format I use in writing good book reviews.
Introduction
I begin my book review with an anecdote, either how I came to the book or how I relate to it's subject. This is a good place to introduce the title and author, although I do mix it up some. Notice that in my review of Sadie: The Paper Crown Princess I don't even refer to the title, except for at the end of the review and in the blog post title.
Book Cover
A post with a picture of the book cover makes the reader more engaged with the book. If a publisher has not provided you with a photo, you may be able to find a cover through your Amazon affiliate account.
Plot Summary
This is where a book review differs from a book report. Your teacher usually wanted a full plot summary as proof that you read the book. In a book review, you should just summarize the plot without giving away spoilers.
Your Thoughts
This is the heart of the review. You want to tell readers what you thought of the book, good or bad. I usually limit my personal review to a paragraph or two, depending on the book. I like to mention the author's writing style, as well as my thoughts on the plot and characters. If you find you don't like the book, you would want to mention that in a thoughtful manner. Try mentioning some positive aspects of the book, if you can.
Conclusion
In the conclusion of your book review, you can share your recommendations. You can also direct readers where to buy the book and any author webpages.
Your Assignment:
Pick your favorite book and write a review on it, using the above guidelines. When you are done, link up your post in the comment section below. Note: I don't normally allow links in the comments, so please only link your book review posts for this challenge.