Welcome to another mini challenge for the Biannual Blogathon Bash, a semiannual blogging marathon. This summer's blogathon will take place from June 22 to June 25. If you are signed up for the blogathon, completing this mini challenge improves your chances of winning a prize. However,  please do not complete this challenge until the blogathon has started if you are participating. Anyone is welcome to read and use the information presented in this challenge.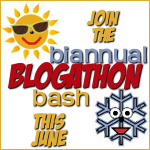 Some times my writing process is a little slow. I get so hung up on writing a perfect first draft that I write nothing at all. When I read a blog, I like to see that the author gets a point across without an abundance of spelling or grammatical errors. I've come to expect the same of myself when blogging, so naturally writing a post takes longer.
Just because you are writing a blog post doesn't mean you can't write well. A well thought-out post can gain more attention that is unedited. I have some hints on how to improve your writing without getting hung up on proofreading.
Writing an Outline for Your Post
You will find that outlining will help you write posts more efficiently without sacrificing content. Knowing what you want to say will help you say it. Even the shortest of posts can be outlined: introduction, body, and conclusion. When it's time to write, looking at an outline can be beneficial in helping you remember all the points you wanted to make.
Write a Rough Draft
As I said earlier, I have trouble with wanting to make a perfect rough draft. Get away from that frame of mind and just write. You will be able see where you go wrong when you proofread. Being more aware of your mistakes will help you learn to write naturally.
Use Lists in Your Posts
Lists can be used effectively to liven up a post. Don't just tell us that your child aced potty training; give us a list of how you accomplished it. When I use lists, I make it a rule of thumb to have at least three items in a list. However, be sure to have content in your post besides the list.
The Thesaurus Is Your Friend
I have a habit of not liking to use the same words next to each other. I use Thesaurus.com to find appropriate substitutes to use. There is also a dictionary tab on the site. This is good to use if you are unsure of the spelling or the meaning of a word. I have seen words used out of context too often, especially if it is a homophones. You can also find writing help in such places as the Purdue Online Writing Lab. I always check their information if I am unsure about a grammar or punctuation rule.
Tell Me a Story
I find myself drawn to posts that show a little creativity. Sure, we can write on motherhood and how it affects us. But when a blogger uses the story of a strawberry tree to illustrate how she's grown as a mother, readers will tend to remember it. An ordinary event can be made extraordinary by the way you tell it. Write a title that will tell your readers what your post is about: Learning About Math at the Grocery Store vs A Trip to the Store.
Your Assignment
Take at least one of these suggestions and use it to transform an old post. Leave the old post up and link to it in the new post. Make sure you change the post enough that you don't get in trouble for duplicate content. When you are done, put your link in the comments below. Please only put the links relevant to this challenge.