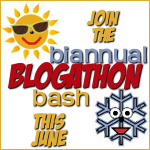 Today is the first day of the Biannual Blogathon Bash, which I am participating in until June 25. Ideally, I will complete 24 hours of blogging or blogging work; the hours do not have to be consecutive. Here are the things I plan to be working on:
Book reviews I have twelve book reviews to write. I have read only three of the books. If I could get a chunk of this done, it would be great.
E-books I have two e-books to outline. They actually go together, so that may make it easier.
Review project I have a review product that I need to actually use, so I will be doing that this weekend.
So that is my weekend plan! Have you signed up for the Biannual Blogathon Blast yet?